Ballot Boxes
Cardboard, Acrylic, Locking, Non Locking
Ballot Boxes, Suggestion Boxes, Lead Boxes & Raffle Boxes

Ballot boxes, also known as lead boxes, suggestion boxes or raffle boxes, by definition is a box in which a patron deposits a completed contest or enter to win registration form in hopes of winning something free. Businesses use these ballot boxes to generate leads and create awareness of their brand. However, there are other types of ballot boxes that are defined as charity or donation boxes that non profit organizations utilize to collect money for chartities. Other businesses use these as suggestion boxes or customer comment boxes, contest entries, employee and customer  feedback and comments and registrations. Ballot boxes are primarily used as lead generation boxes that collect people's information, suggestions, comments and donations. Examples are: donation or collection boxes for charity donations, employee suggestion boxes, retail comment boxes, and lead boxes for collecting names, addresses and phone numbers for leads and giving free give-a ways to lure customers.

Generate Leads Using Printed Ballot Boxes!
Acrylic ballot boxes or a cardboard lead box that is customized with creative graphics or screen printed with your logo is essential to grabbing the attention of potential customers and generating leads. Eye-catching and colorful labels are available from our huge selection of cardboard raffle boxes or cardboard lead boxes as well as screen imprinting for our acrylic ballot boxes. Customize acrylic ballot boxes or cardboard donation boxes today and get the results you want. Utilize a locking acrylic ballot box for security reasons.
Cardboard Ballot Boxes Are Cheaper Than Acrylic Ballot Boxes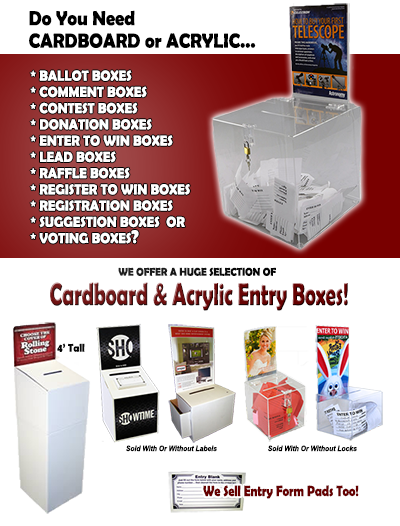 Cardboard Ballot Boxes are by far the cheapest way to collect leads. Displaying an eco-friendly cardboard ballot box or suggestion box on a counter is the perfect solution. These cardboard ballot boxes are produced, stocked and shipped directly from our warehouse. We stock a huge variety of cheap ballot boxes, cardboard entry boxes, and corrugated ballot boxes on premises at all times. Imprinted color labels are readily available for our cheap raffles boxes and cardboard lead boxes and are quickly processed within 2 - 5 business days. Cardboard donation boxes are a great way to generate leads in raffles, or suggestions, registrations or lead generation cheap.
Acrylic ballot Boxes are more of a higher end way to advertise. Our eye-catching and affordable plastic and acrylic ballot boxes are offered in various sizes with and without imprinting. These pristine acrylic boxes are perfect for projecting a professional company image.
Locking Ballot, Charity Boxes or Donation Boxesare typically acrylic or plastic ballot boxes that are used as marketing tools for charity and fundraising events. If you have a high end charity event or auction and need just one locking acrylic ballot box or multiple plastic election boxes with locks, we have an assortment of styles and sizes to choose from. Locking donation boxes and collection boxes keep customer's privacy at the highest level of security and are great when you are collecting money at charity and fundraising events. Acrylic or plastic collection boxes are a great addition to your fundraising supplies and needs. A locking ballot box or fundraising box is a big hit for school fundraisers and we have a large assortment of acrylic donation boxes (or acrylic donation box with lock) and charity fundraising displays. On the acrylic donation lock box, the locking feature also helps to prevent tampering and theft which is crucial when collecting money and confidential entries.
Suggestion Boxes, Comment Boxes are a used for collecting employee suggestions, customer feedback and feedback pertaining to the company to make improvements or give ideas to management to implement more efficient business practices.
Small lead generation ballot boxes are designed for limited counter space. Display these raffle boxes or lead boxes at malls, radio station promotions, store grand openings, restaurants, bars, health clubs and more. Large ballot boxes, lead boxes and contest boxes are a great way to collect contest raffles, votes and contest entry forms from big promotions. Use suggestion boxes or comment boxes to collect customer feedback to assist you in gathering information to improve your customer service. Gather leads with potential customer names, addresses and phone numbers by using the contest boxes for enter to win contests. Give away free meals or drink tickets with cheap lead boxes to generate more business leads and increase sales in the restaurant or bar business.
Affordable Display Products prides itself on offering a large variety of sizes and styles of corrugated ballot boxes, cardboard ballot boxes, clear acrylic ballot boxes, and clear locking raffle boxes. Colorful screen or label printing or always available on any cheap ballot box we sell.
We have a huge inventory of cardboard, acrylic and plastic ballot, contest, registration, suggestion and lead generation boxes in various sizes to meet your marketing and lead generation needs. Enter to win boxes and contest boxes are great ways to get people excited about your promotion or giveaway!
If you cannot locate what you are looking for please give us a call toll free at 1-866-550-0656 call to discuss any custom projects you may have.