Easel Backs
In Order By Size!
Easel Backs: 2X Stronger Than Competition - Manufacturer Direct!
Easel Back Sizes Range From 4" to 60" High!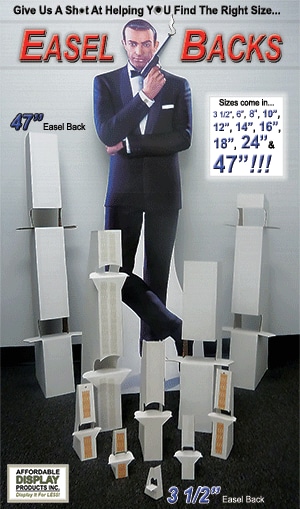 Our Easel backs are extremely sturdy and durable and are commonly used for sign stands and counter signs. All easel backs are produced stocked and shipped from our Altamonte Springs, Florida warehouse facility. We have 1000's of these easelbacks in stock at all times. Affordable Display Products, Inc. stocks one of the largest selection of easel back sizes on the Internet. We stock a huge selection of sizes that range from our small 3 1/2" easel backs to our large 47" corrugated easel back.. The 8" easel back is one of our most popular. These small to large counter sign stands are sold with and without self stick tape. Colors available for our chipboard easel backs are Kraft and white. Easel backing styles include single wing and double wing. These poster holders or easel display stands are produced from 42 point sturdy chipboard that is 2X stronger than competitors selling cheaper 30 point chipboard or flimsy 24 point poster board or cardboard easel backs at cheaper prices. Our display easel backs will not fall over. We have 1000's of standard size easel backs are readily available. Buy manufacturer direct for immediate same day shipping.
Cardboard Easel Backs Support A Variety of Material. Our entire line of cheap easel backs or cardboard easels were designed in house in all standard sizes that will accommodate and support different types of material, such as foam-core cutout signs, gator board advertisements, cardboard standees, cardboard cutout stands and large people cutouts. The 8" easel back is the standard size commonly utilized by the printing industry for 8 1/2" x 11" chipboard or printed cardboard displays. Our popular 47" large format easelbacks, sometimes referred to as cardboard cutout or standee easels, are produced from sturdy corrugated cardboard offering the support needed for most life size standees and full size cutouts. These are not flimsy paper easel backs or floor easel stand displays!
Easel Backs are Easy To Assemble.
Quickly snap and lock easel back tightly to open and fold flat again to close for easy and quick assembly. If you have a fundraiser or silent auction and need a cheap counter sign holder or cheap display stand, you can reuse them time after time as they come with optional self-stick adhesive tape and fold flat for easy storage.
Peel N' Stick 3-M Tape
. We offer our entire line of affordable easel backs with or without double sided adhesive tape. We only use top of the line 3-M double sided tape to ensure these quality easel stand displays will adhere to your display. Other adhesive tapes are cheaper but not as strong. Our self-sticking easel backs or easel stand displays are a simple solution to make your display holders function easily, efficiently and quickly. Any cardboard stand will be extremely functional when combined with one of our quality but inexpensive self adhesive easel backs.
Printers & Fulfillment Companies Are Always Welcome For Cardboard Easels
. We often produce, stock and ship large quantities of strong easel backs to the printing industry who needs an extremely quick turn around. Normally standard easel back sizes ship the same day for orders received by 1:00 p.m. EST. Find 3 1/2" up to 60" high. If you are a printer and have a rush need for cardboard easelbacks, please give us a call so we can accommodate you quickly. If floor easel stands or floor easel stand displays are what you are looking for, buy them now to meet your easel back needs.
Easel Backs And Easel Stand Displays Are 2X Stronger than Competition & Produced In-House From Strong And Sturdy 42 pt - 60 pt Chipboard.